Hace unos días, ha sido actualizada a su versión 1.5.0,
RedNotebook
, una aplicación que nos permite llevar un diario personal virtual en nuestro ordenador.
Permite acceder a nuestras notas diarias a través de un calendario, guardar cada nota en categorías personalizables, buscar anotaciones o seleccionar textos por palabras clave desde una nube de texto.
Además, RedNotebook nos permite realizar copias de respaldo de nuestro diario para migrar nuestros datos.
Algunas de las características que hacen interesante al programa son:


Posibilidad de formatear el texto.


Etiquetado.


Posibilidad de inserción de imágenes y enlaces a páginas web.


Opción para búsqueda.


Guardado automático.


Soporte de plantillas.


Backups y posibilidad de exportación a varios formatos.


[caption id="" align="aligncenter" width="160"]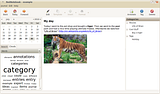 Click para agrandar
[/caption]
Esta es su lista de cambios:
[box color="yellow" icon="new"][list style="bullet-red"]


Use new logo redesigned by Ciaran.


Remember possible undo/redo actions for each day separately.


Turn all entries of old "Tags" categories into tags without entries at startup.


Suggest last tag when a new tag is added.


When suggesting to use the last tag, leave focus on the tag.


Enable copy menu item in preview mode. (LP:834473)


Only allow hiding words from the cloud, not the tags.


Add shortcut (Ctrl+Home) for "Go to Today"


Fix undo for tags.


Drop support for Python 2.5. This means that we now support Python 2.6 and 2.7.


Windows: Update libraries in installer to gtk+ 2.24 and python 2.7.


Windows: Correctly show italics in preview.


[/list]
[/box]
Para instalar o actualizar a esta última versión de Rednotebook en
Ubuntu
desde
Natty en adelante
tenemos que agregar este PPA:
[box color="gray" icon="eye"]sudo add-apt-repository ppa:rednotebook/daily
sudo apt-get update
sudo apt-get install rednotebook[/box]