Parted Magic
Otra vez tenemos novedades sobre
Parted Magic
, una pequeña distribución en formato LiveCD que nos proporciona una colección de herramientas para el testeo de hardware, rescate de datos y principalmente particionado de discos duros. Estos son los cambios de la versión:
[box color="yellow" icon="new"]
LVM hang fixed.
Garbled Russian translation problem with Clonezilla fixed.
Added nfs4 support for Clonezilla.
Truecrypt hang fixed.
Roxterm 2.6.5 replaces lxterminal.
Fixed "cryptsetup luksOpen" bug.
SVG icons now look like they are supposed to. Added LOG support to iptables kernel driver.
HAL has been removed.
You can now boot Parted Magic from Linux RAID partitions (/dev/md*).
Updated Programs: openssl-1.0.1c, cryptsetup-1.4.3, dbus-1.4.20, LVM2.2.02.96, mdadm-3.2.5, util-linux-2.21.2, atk-2.4.0, dbus-glib-0.98, gdk-pixbuf-2.26.1, glib-2.32.3, gtk+-2.24.10, libnotify-0.7.5, pango-1.30.1, bind-9.9.1-P1, curl-7.26.0, elinks-0.11.7, lftp-4.3.8, nmap-6.01, ntp-4.2.6p5, openldap-2.4.31, openssh-6.0p1, gftp-2.0.19, newt-0.52.14, slang2-2.2.4, vte-0.28.2, spacefm-0.7.10, udevil-0.3.1, linux-3.4.6, iptables-1.4.14, xfce4-screenshooter-1.8.1, xfburn-git from 07/26/2012, libpng-1.2.50, libpng-1.4.12.
[/box]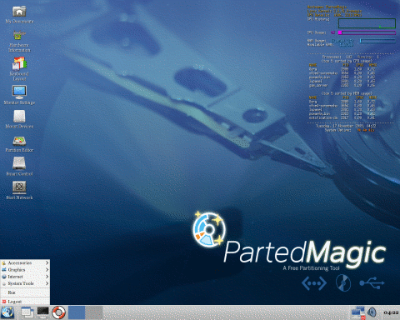 Pueden descargar 
Parted Magic 2012_07_28
desde su
página de descargas
.