Ubuntu Tweak 0.7.2
Ha sido liberada la versión 0.7.2 de
Ubuntu Tweak
, la excelente aplicación para configurar gráficamente muchas opciones de Ubuntu.
El cambio más notorio en la versión es la integración en la
Configuración del Sistema
de Ubuntu.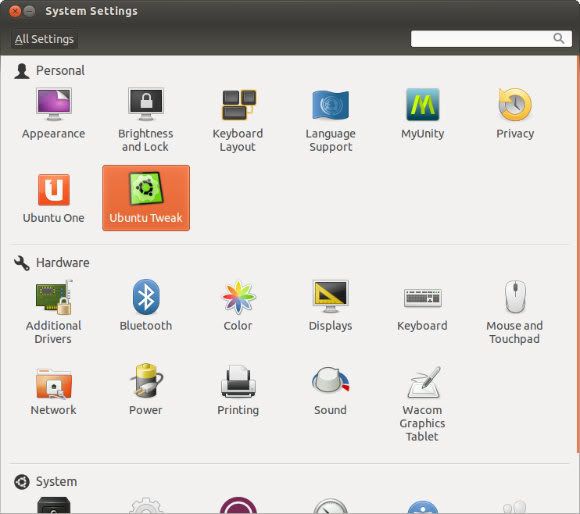 Como vemos en la lista de cambios a continuación, también se han solucionado 13 bugs:
[box color="yellow" icon="new"][list style="bullet-purple"]


LP: #998184 Integration with Ubuntu's System Settings app


LP: #998411 Invalid values for resetting fonts


LP: #998594 Ubuntu Tweak reported a negative number of bytes for removing old kernels


LP: #998626 Pressed the file manager, an error message appears


LP: #998742 crash while searching for old kernels to clean


LP: #999072 ubuntu tweack "miscellaneous" crash


LP: #1000682 Recently Used should not display the items doesn't work for current desktop


LP: #1001551 Janitor tab is empty


LP: #1001779 Crash while trying to add a custom command in File Type Manager


LP: #1002026 Click on Sessing module generates "this module encountered an error while loading"


LP: #1002594 Houve erro ao carregar o modulo.


LP: #1004172 NameError in utils.walk_directories


LP: #1005485 Font settings are not displayed in gnome-fallback session


LP: #1007859 launching desktop icond from within ubuntu tweak


[/list]
[/box]
Podemos instalar o actualizar a Ubuntu Tweak 0.7.2 en Ubuntu 11.10/12.04 descargando el paquete deb
desde este enlace
.
Al momento de publicarse esta entrada aún no están subidos los paquetes al PPA oficial, pero calculo que será cuestión de horas para que puedan actualizar quienes tienen el PPA agregado a su lista de repositorios. Igualmente les dejo la manera de agregarlo:[box color="gray" icon="eye"]
sudo add-apt-repository ppa:tualatrix/ppa
sudo apt-get update
sudo apt-get install ubuntu-tweak
[/box]