SystemRescueCD 2.8.0
Ha sido actualizado a la versión 2.8.0, 
SystemRescueCd
, un sistema Gnu/linux basado en Gentoo, arrancable desde cdrom que sirve para reparar tu sistema y recuperar tus datos después de un fallo. También intenta proporcionar una manera fácil de realizar tareas administrativas en tu ordenador, como crear y editar particiones en el disco duro. Contiene muchas
utilidades de sistema
(parted, partimage, fstools, …) y herramientas básicas (editores, midnight commander, herramientas de red). El objetivo es que sea muy fácil de usar: sencillamente arranca desde cdrom y puedes hacer todo.
Esta es la lista de cambios de la versión:
[box color="yellow" icon="new"]
[list style="bullet-purple"]


Updated standard kernels to Long-Term-Supported linux-3.2.19 (rescuecd + rescue64)


Updated alternative kernels to latest stable: linux-3.4.2 (altker32 + altker64)


Fixed USB installer script for linux: usb_inst.sh (Thanks to Gernot for the fix)


Updated sys-apps/gptfdisk to 0.8.5 (Fdisk utility for GPT partition tables)


Updated fsarchiver to 0.6.15 to support recent features in btrfs/ext4 filesystems


Updated firmware files in the initramfs from linux-firmware-20120502


Updated DBAN to 2.2.6 (Hard Drive Disk Wipe and Data Clearing program)


Updated Grub2 bootloader to 2.00_beta6 (grub-0.97-r12 is also provided)


Updated list of kernel modules to put in the initramfs (storage and network)


Do not attempt to find sysrcd.dat on extended partitions (bug reported by Gernot)


[/list]
[/box]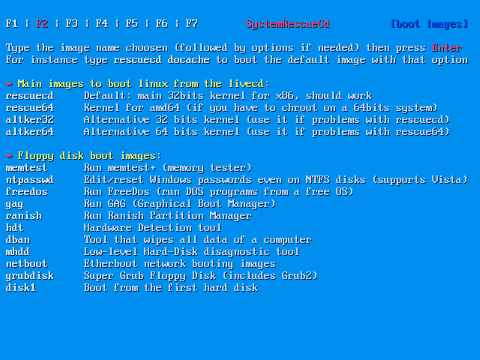 Pueden descargar la imagen iso de SystemRescueCD 2.8.0 desde la 
página de descargas del proyecto
, como así también consultar 
el manual en español on line
. ( un poquito viejo pero ayuda).