Nautilus Flickr Uploader
Hace unos días se ha actualizado
Nautilus Flickr Uploader
, un programa que usando la API de Flickr nos permite subir imágenes a nuestra cuenta en Flickr de una manera muy fácil.
Solo tenemos que marcar en Nautilus las imágenes a subir, y al hacer click derecho abrirlas con esta aplicación.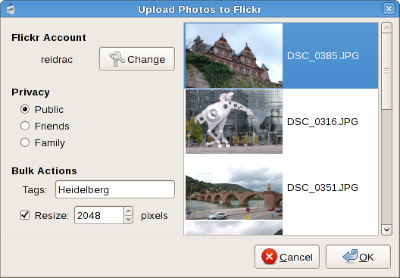 Esta es la lista de cambios de la versión 0.14.2:
[box color="yellow" icon="new"]
- FIX: glitch in the progress bar when moving to the next image
- FIX: two buttons not marked as translatable
- FIX: the translation for "Cancel" was missing
[/box]
Gracias a Getdeb disponemos una forma sencilla de instalar o actualizar esta aplicación en Ubuntu 12.04.
En el caso que no tengas agregado el repositorio de Getdeb, deberías agregarlo primeramente descargando
este paquete deb
Luego puedes instalar
Nautilus Flickr Uploader 0.14.2
desde aquí
Otra opción es instalar o actualizar con este paquete deb:
[box color="green" icon="box_down"]
nautilus-flickr-uploader_0.14.2-1_all.deb
[/box]