Parted Magic
Otra vez tenemos novedades sobre
Parted Magic
, una pequeña distribución en formato LiveCD que nos proporciona una colección de herramientas para el testeo de hardware, rescate de datos y principalmente particionado de discos duros. Estos son los cambios de la versión:
[box color="yellow" icon="new"][list style="bullet-tick"]


Minor bug fix release with some added programs and updates.


SpaceFM was updated to 0.7.7 and now uses udevil for device mounting.


Pyneighborhood 0.5.4, Shorewall 4.4.27, Shorewall6-4.4.27.3, Gptsync 0.14, and Udevil 0.2.4 were added.


Coreutils 8.17, File 5.11, Lftp 4.3.6, Mbr 1.1.11, Openssh 6.0p1, Openssl 0.9.8x, Rdesktop 1.7.1, Sshfs-fuse 2.4, Unetbootin 575, Zerofree 1.0.2, Clamav 0.97.4, E2fsprogs 1.42.3, Fuse 2.9.0, Rsync 3.0.9, Cifs-utils 5.4, Keyutils 1.5.5, Krb5 1.7.1, Curl 7.25.0, Libidn 1.25, Openldap-client 2.4.31, and Spacefm-0.7.7 were updated.


The Download Java program has been completely rewritten and works more reliably now.


Work on a GUI for Shorewall has started. For now it's only useful if you are not already behind a firewall provided by your router


[/list]
[/box]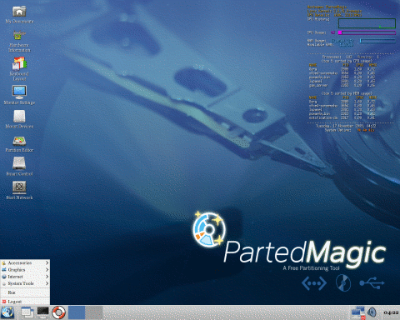 Pueden descargar 
Parted Magic 2012_05_30
desde su
página de descargas
.