Gparted 0.12.1
Se encuentra disponible una nueva versión de
Gparted
, una herramienta con la cual podremos desde el Live Cd trabajar con particiones, permitiéndonos crear, borrar, redimensionar, copiar, etc. las particiones de nuestro disco duro o USB.
Gparted soporta la mayoría de los formatos de archivo:[list style="bullet-orange"]


btrfs


ext2 / ext3 / ext4


fat16 / fat32


hfs / hfs+


linux-swap


ntfs


reiserfs / reiser4


ufs


xfs


[/list]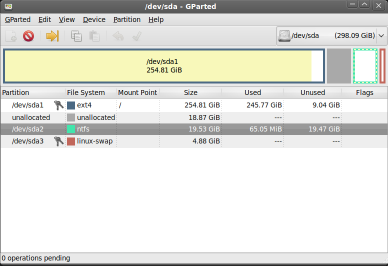 Estos son los cambios de la versión:
[box color="yellow" icon="new"][list style="bullet-pink"]


Updates Linux kernel to 3.2.17-1


Based on Debian Sid repository (as of 2012/May/20)


Adds gptsync package:
Useful to re-sync the Mac OS X Hybrid MSDOS/GPT partition tables after editing.


[/list]
[/box]
Pueden descargar el Live CD desde este enlace:
[box color="green" icon="box_down"]
gparted-live-0.12.1-5.iso
[/box]