Parted Magic
Otra vez tenemos novedades sobre
Parted Magic
, una pequeña distribución en formato LiveCD que nos proporciona una colección de herramientas para el testeo de hardware, rescate de datos y principalmente particionado de discos duros. Estos son los cambios de la versión:
[box color="yellow" icon="new"]
Super duper program update release! The following programs have been updated: e2fsprogs-1.42.2, dosfstools_3.0.12, mtools_4.0.17, util-linux-2.21.1, coreutils-8.16, bootinfoscript-061, gptfdisk-0.8.4, ms-sys-2.3.0, pigz-2.2.4, safecopy-1.7, gparted-0.12.1, lzip-1.13, parted-3.1, plzip-0.8, ddrescue-1.16-rc3, dhcp-4.2.1_P1, dhcpcd-5.2.12, ethtool-2.6.36, net-tools-1.60, hdparm-9.39, wicd-1.7.2, linux-3.2.15, clonezilla-1.2.12-37, ntfs-3g_ntfsprogs-2012.1.15AR.1, testdisk-6.14-WIP, smartmontools-5.42, flashrom-0.9.5.2
Other than program updates some other issues have been addressed. FAT16/32 filesystem resizing weirdness has been fixed. Parted Magic is now using the entire util-linux and coreutils packages. This eliminates any chance a script based program uses a command option Busybox doesn't have. You can now stop extra modules and scripts from loading with nopmodules and noscripts kernel command line options. Any wireless devices using the r8712u driver didn't work when the kernel was upgraded to the 3.2 series. This includes the Dlink DWA-130 Rev E1 Wireless USB adapter and other devices that use this driver. They work now.
[/box]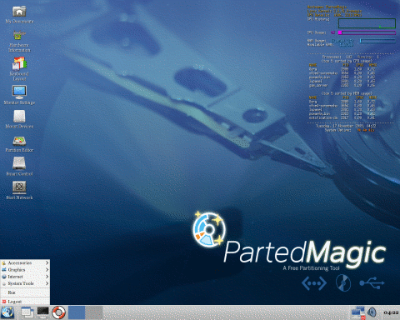 Pueden descargar 
Parted Magic 2012_04_21
desde su
página de descargas
.