Gigalomania
Gigalomania
es un juego de estrategia en 2D multiplataforma ya que puede ejecutarse en Windows, Mac OS X, Linux, teléfonos inteligentes de Nokia / tabletas (Symbian, Maemo y MeeGo), y smartphones o tabletas equipadas con Android.
El modo de juego consiste en investigar y desarrollar nuevas tecnologías con los que conquistar a tus enemigos, desde piedras y palos hasta armas nucleares y naves espaciales. Podremos avanzar a través de diez diferentes edades, desde la edad de piedra hasta el futuro disponiendo de 28 mapas diferentes.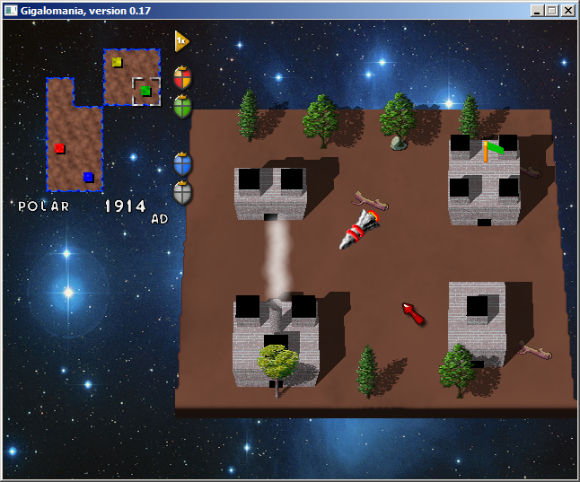 Aprovechando que hace pocas horas han subido su última versión (0.24.1) al PPA les dejo la lista de cambios y los .deb para instalar o actualizar:
[box color="yellow" icon="new"]
* Fixed possible crash when loading save games.
* Building health bars weren't reduced properly.
* In element stocks screen, positioning of number of elements was sometimes slightly obscured by the element icon.
* Ported to Android.
* Boosted tower strength by 50% (not so easy to destroy, and lasts longer on average than other buildings).
* Reduced effectiveness of shields (problem of taking ages to destroy sectors when AI can keep using shields).
* People no longer killed if a building destroyed.
* Your people and armies are automatically evacuated if the tower is destroyed.
* Health bars shown for buildings in main screen view, including for enemy sectors.
* Improvements for touchscreen UI.
* Screenblanking disabled on Android/Symbian/Maemo/Meego.
[/box]
[one-half last=no]
[box color="green" icon="box_down"]
gigalomania_0.24.1_i386.deb
[/box]
[/one-half]
[one-half last=yes]
[box color="green" icon="box_down"]
gigalomania_0.24.1_amd64.deb
[/box]
[/one-half]