Nautilus Flickr Uploader
Nueva versión de
Nautilus Flickr Uploader
, un programa que usando la API de Flickr nos permite subir imágenes a nuestra cuenta en Flickr de una manera muy fácil.
Solo tenemos que marcar en Nautilus las imágenes a subir, y al hacer click derecho abrirlas con esta aplicación.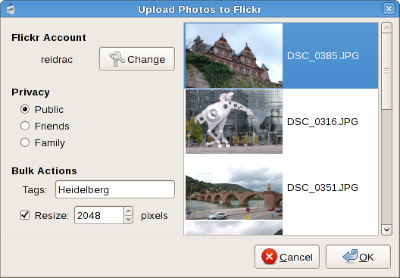 Ya se encuentra disponible la versión 0.12 con esta lista de cambios:
[box color="yellow" icon="new"]
- FIX: Polish translation updated, thanks to Piotr DrÄ…g
- FIX: support for non ASCII characters in title and tags
[/box]
Gracias a Getdeb disponemos una forma sencilla de instalar o actualizar esta aplicación en Ubuntu 11.10.
En el caso que no tengas agregado el repositorio de Getdeb, deberías agregarlo primeramente descargando
este paquete deb
Luego puedes instalar
Nautilus Flickr Uploader 0.12
desde aquí